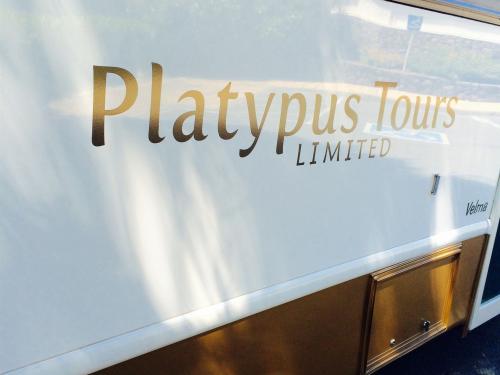 Napa Valley, although such a small area of land, surely packs a punch with the number of wineries to choose from. It can oftentimes be a daunting task to narrow down over 450 wineries to the 4-8 one can see on a short trip. On top of choosing your experiences, you also have to consider how to get there. You can rent a car, hire a driver, or even uber around the valley these days. All of these decisions beforehand can lead to being overwhelmed, and by the time you have your trip planned, you need your vacation to start asap!
Everyone at the Inn on Randolph tries to make the planning a little bit easier for you. We understand how overwhelming it can be, and we want our guests to not feel the pressure of choosing from too many options. Platypus Tours is a company that we love because they have that same vision. They want wine tasting to be fun, relaxing, and enjoyable.
They are a unique company, not only by their name, but also by the way they design their tours. Platypus Tours offers a daily, group tour where they arrange 4-6 couples from all walks of life and place them in a tour bus to go wine tasting. This might be intimidating at first, sitting with other couples you do not know, but by the end of the day it makes for some amazing conversation, and often new friendships are born!
The morning begins after breakfast when the tour guide picks you up at the Inn. You often make several stops to pick up other guests, and then the driver will head to the first winery of the day. The driver makes the itinerary for the tour, and he or she often has wonderful connections at each of the wineries. This means that you truly are getting the best experience!
You will visit a total of 4 wineries throughout the day, and the tour typically lasts 6-7 hours long. Each tasting experience will be different. Some wineries feature caves, some allow you to walk the vineyards, while others will let you taste right out of the barrel. You are never quite sure what you will get to do on your tour, which keeps it exciting! The best part is that they prefer to go to the smaller, boutique wineries that are often harder to discover and get into on your own. The wines that these wineries produce you most likely won't find at home, and they are some of the best in Napa!
At the second winery of the day, the driver will prepare a picnic lunch for you at the winery. The lunch consists of sandwiches, fresh fruit, and the best quinoa salad! Also, Platypus is fantastic when it comes to gluten-free accommodations. You finish off your lunch with a delicious little dessert bite with a dollop of whipped cream on top! Speaking of food, the driver will serve you a cheese and cracker platter on the bus in between wineries. The platter features 3-4 different cheeses which are sure to keep your hunger at bay. They also have a cooler filled with chilled water, ensuring that you will be well fed and hydrated along the way.
The best part of the tours are often the drivers. They do not simply drive you to a winery, drop you off and pick you up when you are done. These drivers are often a part of the whole tasting experience. They are equipped to answer any question about winemaking, grape growing, Napa history, and more. You will leave the tour knowing something that you did not know before thanks to them!
If you are looking for an educational, laid-back, enjoyable experience, then Platypus Tours will definitely be the tour for you. Ask a concierge to book a tour for you and then relax knowing you are done with planning your wine tour. It really is as simple as that!