Travel in the Time of Covid - an Interview with Shilpa & Sudip Lahiri
July 07, 2020
Category: Coronavirus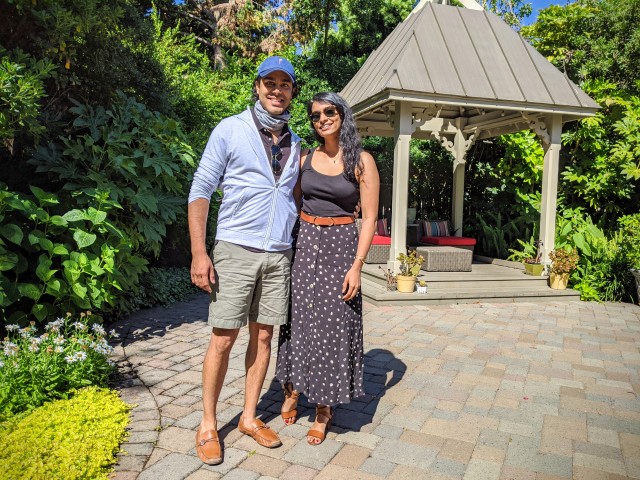 CLICK HERE TO LISTEN TO OUR BLOG CAST
Perhaps one of the bigger questions we ask ourselves as our local areas slowly reopen is, "are we really safe to travel?". It is a fair question, and one that will have different answers. Your health, where you live, and where you want to go all play a factor in determining if you are ready and able to take that much needed getaway. It is no longer a simple decision. Here we have a brief interview with recent Inn on Randolph guests Shilpa and Sudip Lahiri and their experience on taking the chance to venture a short distance from home to travel in the time of the Covid-19 pandemic.
Q: Overall, what has your experience been with travel during the COVID-19 pandemic?
Shilpa: Honestly? Better than we expected. This is the first time that we've traveled [since the Pandemic started]; we haven't taken an Uber or anything like that for the last four and a half months. We were glad to come somewhere we didn't have to fly to. The Uber driver's kept their windows down, and wore masks. And being in town it's clear all the restaurants and bars are social distancing. It never felt crowded anywhere we went in Downtown [Napa].
Sudip: It's been more manageable than expected, I was pleasantly surprised by customers and patrons complying with wearing masks. I knew everyone would follow all the rules, but we were still worried about it. You hear stories about LA and the beaches about the crowds and not wearing masks or social distancing, so we didn't want to go there.
Q: Did you have any reservations about traveling? If so, what were they, and do you still feel that concern?
Shilpa: As we said, flying is something we won't do right now. But after this experience we have fewer reservations than before about travel.
Sudip: We also didn't want to stay in a big hotel because it's such a large shared space, so we were specifically looking for a smaller inn like this one.
Q: What have you enjoyed the most about travel right now?
Shilpa: Getting outside of our apartment! Lunch was incredible - we haven't sat outside in so long because we don't have an outdoor space in the city. Just being able to sit outside and enjoy a drink was great - you kind of forget how much you enjoy it.
Sudip: Not being at home!
Q: What have you enjoyed most about your stay in Napa and the Inn on Randolph?
Shilpa: Getting fresh air and a little bit of peace and quiet. We slept like rocks! The air feels cleaner, too. And the food has been really good everywhere - especially after a lot of Doordash, Postmates, Seamless and so on. We were so surprised by how gourmet the food was [at the Inn], we expected it to be more like a home cooked meal!
Sudip: It's nice to be "away" from the city of Napa but so close. [The Inn on Randolph is] within walking distance [to the downtown area].
Q: Do you have any recommendations for other travelers at this time?
Shilpa: Bring hand sanitizer! And staying anywhere where you can walk is quite convenient, especially if you will be drinking. Downtown has enough to keep you occupied for a day or two.
Q: Any other comments about your stay and traveling?
Shilpa: It felt really safe; I never felt like I was doing something I shouldn't be doing.
While many will still hesitate to travel, we hope the perspective and experience from Shilpa and Sudip's recent visit will provide reassurance to future travelers that it is possible in the current times to get away and still feel safe.
*We want to give a special thanks to Shilpa & Sudip for providing us with this interview!*
Experience the Inn
An Inn on Randolph Blog & Blog-Cast
Written & Voiced by Victoria Shavlik-Veeninga